August 9th, 2012
Hi again! So I finally made it to the art store...Omer de Serres is the place I go to here in Ottawa, Ontario. Love going in there..but its a very dangerous store!!! Dangerous for my wallet, that is. Not that they are expensive, but I could get out of control and spend way too much money, and time in there. So much to see, and learn! It is an awesome store! and I buy all my frames there. The prices are very reasonable, with a great assortment. But anyway, I'm not blogging about them today, but just wanted to mention my new purchases. Four fresh new gallery wrapped canvasses, a whole set of acrylic tubes of paint, and 6 new brushes! Also some heavy acrylic medium.
I sure had a great time trying out my new brushes and paint today. The lure of creating abstract art on canvas, instead of on the computer, was just too much to stave off any longer! Oh what a difference to paint with acrylics instead of oils! I can't believe today's creation is already DRY! And what fun to spray water on the paint and let it run! I'm quite happy with my experimental piece..done in aquas, teal, orange and red. At this rate I could easily pump out a painting a day. I'm sitting here now, staring at my new art piece...wondering if I did enough? It just seemed too easy...too fast. Painting with acrylics is a breeze...is it supposed to be? Fifteen years I've worked with oils...labour intensive, time waiting for my paint to dry only to paint another coat over it, filling in details, more drying time again, and finishing touches weeks after the beginning of the piece. Labour of love though, no doubt about it!
But let's see now, will I get the same gratifying experience with these NEW paints? Time and experience will tell. My next blog will surely address this quandry...oil painting VS acrylic painting...????? Also what will be interesting too, is my abstract art any good? Stay tuned for the next blog..maybe I'll have the answers.....and I'll post my new work too! Another good question..will I ever be able to earn a humble existence with my art? This inquiring mind, Renate Nadi Wesley, would love to know.
July 24th, 2012
Well, another Birthday has come and gone, and the year is off to a good start. Just worked out a new digital piece, and am liking it! I've also posted a few others last week and the week before..and have had many visitors and great comments on the pieces. And....I sold a print as well. My abstracts are attracting quite a bit of attention! I can't wait to get to my favorite art supply store and stock up on paints and canvases. My digital work has inspired me to paint this style on canvas, and I can't wait to try it out. My next blog hopefully will show you my progress in the painting department. !!! Stay tuned!
February 19th, 2012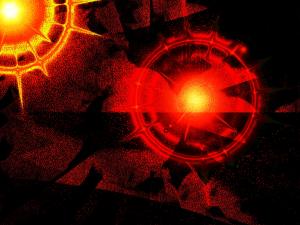 Hi again....yes I'm still at it! I'm loving playing with the Gimp program on my laptop. Have you gone to see my work yet? I would really like to hear from you with comments on my artwork. I was never a big abstract lover, but NOW!! I'm loving it. I finally got it....the mood, colors, shapes, and eye appeal, how it makes you feel, and want to look at it. Eye candy! I can't wait to get my hands on more canvasses so I can paint some abstract work...I've got lots of ideas. Meanwhile I'll be playing digitally and showing off the products. I'm hoping someone will love my work, and buy them all up! LOL. Look for me on Fine Art America, and go to my website. Here you can see ALL my art, including my impressionist, expressionist, realist, and everything else, paintings, photography and digital work. My very best work is the oil paintings (in my opinion), and I put lots of love and effort into them. All my work is bright and colourful, and I already have a good fan base. Painting is my passion, and as you can guess I love the great outdoors. My painting depicts nature is all its glory, natural shapes and colors. Growing up years were spent in Muskoka, amongst the wilderness, and in my parents' gardens. Now I carry on the lifestyle spending lots of time in my own gardens and the forests I planted many years ago.

Once springtime is again upon us, I'll be in my glory...though this winter has let us off easy this year. Painting and gardening, hiking the trails, all awaits me, and I will be inspired to capture all the beauty by camera and paint. Don't forget to go see my work and let me know what you think. Thanks, Renate "Nadi" Wesley
September 30th, 2011
Ha! The title sounds like it should be two separate blogs. Oh well, here it goes.
My life as an artist goes back to crayons and coloring books. Like most everyone else. Well it didn't take me long to figure out plain paper would do, and I could use colored pencils and even paints! By the age of 10 I was teaching my friends how to draw stuff. Hmm, now one of those friends is a recognized Ontario artist...and way beyond MY price range!! I'm tickled for him! His beautiful work has made a career for him. Well, my focus became photography for many years (teens) as I explored up at the cottage and in the vast forest. Wow, how interesting and beautiful the woods were to me...and I saw the birch bark peeling, and the fungus on the broken tree, how pretty the light was coming thru the trees. My camera was my partner.I wish I still had those negatives!!
I attended OCA in my late teens aspiring to get into what was then called Advertising Art. Now its Graphic Design. Still focussing on photography, and Layout and Design (2D and 3D), Illustration, Typography...I really never explored much of the FIne Art Department..except to venture thru there to see the paintings. Wow! some awesome work there! I was to get my OACA certificate when love found me, and life suddenly changed. Still a nature lover I've mostly lived in rural areas with trees. Raising 3 kids, all of them with creative talents, I left art behind only to craft for a few years.
But the painting bug suddenly hit me in 1995 and I went for it at full tilt! Oh boy, what fun! I loved it! and did it quite well, almost immediately had my own style. Made lots of sales over the years, but never enough to support myself. In recent years I've been trying a more abstract subject and style..but I have to laugh.Yes, of course its still organic in nature....organic abstract...fantasies of sorts I guess. I really am enjoying developing these newer paintings. And I can photograph them with my Digital Camera!! and upload them right away, and show them off here at FAA. Yay! I'm getting so much inspiration now from my fellow artists..I spend hours a days looking at everyone's work and marvelling how wonderful it is.
When I realized how much digital art there is I was blown away. Its so beautiful! My son downloaded a program for me, and I have been playing with it alot lately. Still learning but freaking out about all the possibilities...just experimenting every day using my own photos and paintings to manipulate into oddities. Fun, fun, fun. I guess I'm really not too old to learn new tricks. Lots more to learn too. You can see my new oddities in my Digital portfolio. I also have a Paintings and a Photography portfolio.

ALL I WANT FOR CHRISTMAS IS A NEW DSLR!!! oh ya, and new tubes of oils. Talk to you all again soon...



Those habits of shooting what catches your eye was expensive,....all that film, the prints. People used to say, 'oh that's a wasted picture'...hey I still do on occasion when someone tries to photgraph me. But now there's no wasted pics, and the only cost is memory cards, and batteries....and of course the Digital Camera. Yay! Simplicity pervails!